Celebrating PDI's Key Problem Solvers During #NationalEngineersWeek
Here at PDI, we pride ourselves on creating solutions for our customers. Our entire operation relies on the expertise and input of all of our employees working together, but in honor of #NationalEngineersWeek, we are shining the spotlight on this specialized group of our workforce.
Engineers are some of our key problem solvers. They are those who bridge the gap between concept and creation. They ask, "How do we make this work?" and develop the solutions to get there. Our engineers work across various departments, as their expertise is essential throughout our operation. From design to manufacturing to quality and everything in between, our engineers can be found across various departments in highly focused roles.
Instead of documenting a "typical" day in the life of an engineer (there really isn't one; there's always something new and exciting!), we are going to walk through a few different departments and have our engineers talk about their work in their own words.
Let's start with the first logical stop: design.
Design Engineer Rick Braine
Rick designing in SolidWorks

Q:

How did you first get interested in engineering? Was there a specific catalyst?




A: Early in my career I worked at the Warren Company in Erie, PA. I worked with the CNC laser and just through that, I got involved with structural design and sheet metal, and how parts come from raw steel to a fully manufactured product. Working there got me interested in that.

Q:

As a design engineer, it must be asked: What is one of the biggest considerations you have in mind when working on a new design?

A: There are a few variables, but we're always thinking of customer requirements first. Their budget is also quite important, since a certain design can go one of two directions if you need it to be under a certain budget. In that case, we may be using more 3D-printed parts and a quicker design. When the budget is larger, we can obviously spend more time and money to create a more robust design. 
Q:

Y

ou work extensively with 3D modeling, and SolidWorks in particular. You have been awarded as being the 3rd finest SolidWorks user in the world. How did that feel?

A: I was excited and it was unexpected. The recognition throughout the community was great. 
Q:

What do you enjoy most about your job?

A: I really enjoy working with 3D software and creating something digital from nothing but my imagination. It really is a blank slate every time we design something. 
With Rick's words in mind, let's move onto the development side of engineering.
New Product Development Manager Kevin O'Neal
Q: Can you walk us through the process of new product development?
A: It starts with an incoming request for a quote from a customer. Then the drawings are reviewed by our team for feasibility, which of course, is cross-functional. If it's something that we wish to pursue, then I put together pricing for a quote. From there it will go through, depending on requirement, prototype creation and PPAP (production part approval process), the launch of production.
Q: Did you always want to be an engineer?
A: I did not, actually. I was a union carpenter for years, and then suffered a back injury that made me change my career path. I went back to school for engineering because it interested me, I had a mechanically-inclined background and I enjoy designing. I've now been in the field for over 20 years.
Q: You've been with PDI for some time, and during this time you have moved into a management role. What have you enjoyed most about this role?
A: I really enjoy teaching the new people, working with them and seeing them progress and develop.
Q: We're writing this in celebration of National Engineers Week. Why do you think it is important to celebrate engineers?
A: I would say that there's a lot of background work that's done by engineers that basically goes unnoticed, so this is a good opportunity to provide recognition.
Development is the bridge between concept and creation, so next let's take a look at creation.
Manufacturing

Engineer

Vince Samosky
Vince (right) working with Walter in fabrication and assembly.
Q: Why were you drawn to engineering?
A: For me, it was when I was growing up. I grew up working on a farm. It was very hands-on and I faced a lot of technical challenges working like that, so that drew me to more of a technical degree. In high school I spent a year in the school's computer-aided design program, so that was another big tipping point for me.
Q: Do you have a morning work routine? What is it?
A: Especially for me, that kind of depends on what we have going on in production — if we have any pressing issue or any special cases. In a normal day I usually come in and try to filter through any old emails or anything like that, then we start our day around 8:10 a.m. with a morning Gemba Walk, to walk the production floor to identify and discuss any production issues or areas of opportunity.
Q: What is your favorite equipment/machinery to work with and why?
A: For me, it would be the CNC sheet metal equipment and the weld equipment. That's where my main area of focus is. It's something a little more challenging. Different issues can arise in dealing with CNC. It's a good opportunity to learn and push my abilities on some larger scale. It gives me a chance to work with both operators and equipment maintenance closely to determine root causes.
Q: What would you tell somebody who is interested in engineering but feels it may be a difficult field?
A: Well, I wouldn't lie to the person and tell them that it's not difficult because every day you do face new challenges, but with anything else you're going to have challenges, too. Engineering gives you the tools to overcome those challenges and solve those problems, and can be a very rewarding field to be in. Working through the day-to-day and being able to see improvement firsthand is one of the best parts of the job.
After manufacturing comes quality, to ensure that we are consistently delivering the right products and systems for the application.
Quality Engineer Kevin Wilson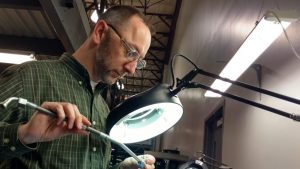 Kevin testing an assembly for quality under a microscope. 
Q: Can you explain what your role entails and how it fits into the whole manufacturing process?
A: Our primary goal is to make sure that the customer gets what they ordered per their drawing. So we work with the customer, we work with the manufacturing engineers, we work with the people on the plant floor to verify how things are being built, that they're being built correctly and to meet specifications. We also answer any technical questions regarding product quality and do a lot of training with new people.
Q: What are the mechanisms that you use to ensure that each product meets quality standards?
A: It starts off with the drawings from the customers, and a lot of training and a lot of years of experience. Then there are specific tools, whether it's calibers or microscopes, computers or measurement tools. We also work with the designers to build gauges specific to what we do to help ensure that the parts are the same every time, and that they meet requirements.
Q: What brought you into a career in quality?
A: I've been doing quality for 30 years now. I started at 19-years-old with an internship at a steel mill. I kind of fell into it, and I've been doing quality ever since. I have a degree in metallurgy (the study of metals) and a degree in industrial engineering. As far as other fields I've worked in, I've been in aerospace, automotive, pressure vessels, heavy equipment manufacturing and textile products.
Q: Engineering is collaborative; how many different departments do you interact with?
A: I interact with almost every department. I work with purchasing because we handle any supplier issues. I interact with shipping on packaging requirements because we're always shipping parts back and forth, and quality does not stop when the part is built; quality stops when the part is delivered and installed. I work with manufacturing engineering and the machine shop on fixtures, and the parts themselves. I work with planning because when we have something that's on containment or on hold, I have to make sure that they know what can and can't ship. I work with everybody on the plant floor all of the time. In quality, we really touch every part of the business.
Engineering does not stop there. Engineering permeates every facet of our business, down to our computer systems. That's why we now turn to software engineering.
Software Engineer Stephen Smith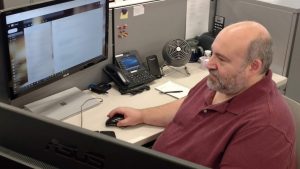 Stephen at his work space, busy coding software.
Q: Software engineering is different from other forms of engineering because it exists in an artificial, rather than physical, world. Do you feel like this constrains you or opens up more doors?
A: It actually opens the doors a little bit, for me helping the other engineers come up with strategies to control their environment, like with assembly processes. I don't think it's constraining. It's different because here at a manufacturing plant I'm dealing with a lot of machines and equipment, versus when you're just engineering a piece of software, it's just the software that you're engineering. In this situation I deal with both software and machinery because we have to control some of the processes that go on out in the plant, through software.
Q: Many people say that coding is a different language. How long did it take you to become fluent and what do you enjoy about this "language"?
A: I'm programming in all sorts of different programs, and each have their individual syntax and the way they do things. While some are very similar, their syntax may be different. Sometimes I find myself starting to code something in one language and realize that I need to switch over and rewrite a little bit. If I had to pick a language that I'm most fluid in, it would be the .NET platform. For what we have to do here, it's the best one to go with.
Q: Do you have a favorite past project? What was it and why was it your favorite?
A: There are a lot of things I've liked working on, but probably the coolest one I've worked on so far is the work order tracking website. It integrates into our sales platform and allows us to track where the work order is on the floor. It was all done in C# .NET Core so it was all new to me, which is what I like to do: I like to learn new things. It's the way I've always been.
Q: Why should more people get involved in engineering?
A: If the person likes to be creative and likes to figure stuff out, then engineering is for them, because that's what engineers do. You're presented with a problem, and you have to engineer something to fix it, or come up with a way to do something specific. You have to ask, "With our capabilities, how do we make this work?" Then you have to come up with an easy, understandable way to explain to somebody who isn't as technical, so they can understand it, too.
From the early design and planning stages to manufacturing and everything in-between, engineers are there every step of the way. They are invaluable members of the PDI team, as well as across a variety of industries. Especially this week, make sure to thank the engineers in your business and in your life!