Today is Manufacturing Day!
Every year on the first Friday of October, companies across the country celebrate the manufacturing industry and inspire young students to pursue careers in manufacturing.  From Manufacturing Day's website:
"Manufacturing Day addresses common misperceptions about manufacturing by giving manufacturers an opportunity to open their doors and show, in a coordinated effort, what manufacturing is — and what it isn't. By working together during and after MFG DAY, manufacturers will begin to address the skilled labor shortage they face, connect with future generations, take charge of the public image of manufacturing, and ensure the ongoing prosperity of the whole industry." 
To celebrate Manufacturing Day, we decided to highlight a few of the many departments here at PDI that contribute to the overall manufacturing process.  While there are more than a dozen teams that play a major role in our day-to-day manufacturing operations, we chose to focus on Quality, Engineering and Plant Operations.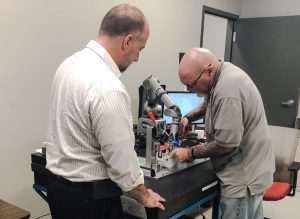 Jerry DiVirgilio and Randy Benware using FaroArm®
Quality is vital to the successful production of

materials

 for any manufacturing facility.  It controls the manufacturing process and ensures that customers receive the parts they desire, while also keeping a company's internal costs down.  Jerry DiVirgilio, PDI's Corporate Quality Manager, say

s

:
"We're all consumers.  We've all had experiences where we didn't receive the thing we wanted, or it wasn't up to the standards we expected.  Our customers are exactly the same." 
By conforming to industry standards and utilizing quality testing and procedures, customers are guaranteed to receive high-quality products every time.  Because of this, those interested in entering a career in quality assurance can expect a lot of problem-solving.  DiVirgilio says:
"Quality revolves around problems and finding solutions, so it's one of the most rewarding departments because you get to see the fruits of your labor.  It also has the most interaction with all departments in the company, so you have a lot of variety among the problems you're solving."
Engineering also revolves around problem-solving.  Scott Butler, PDI Engineer, says:
"Engineering's job is to assist production workers to improve production processes and increase efficiency…We support all other functions of the company and solve problems."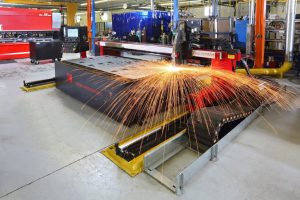 Plasma Cutter at PDI Erie Facility
Our engineers have a wide range of disciplines. From tool design to equipment manufacturing to process improvement, they play a part in every step of the production process.  "You'll never do the same thing twice," says Butler.

Without engineers, it would be nearly impossible for our plant workers to manufacture products and remain efficient.  Every department relies on each other to perform at their greatest potential.  This is even true just on the plant floor.  Bob Lund, Manufacturing Supervisor, says:
"Tube Fab supplies Braze and Braze supplies Assembly.  Tube Fab and Braze work with Warehouse to store and organize parts.  Our teams are always working closely together because their jobs go hand-in-hand."
Our plant workers collaborate with all different departments in the company to support PDI's lean manufacturing and "5S" cleanliness programs.  This ensures waste and scrap reduction, resulting in higher levels of efficiency and lower internal costs.  More than anything, though, a company's productivity heavily relies on employees' attitudes and dedication.  At PDI, we promote a positive company culture and offer possibilities to move within the company.  Lund says: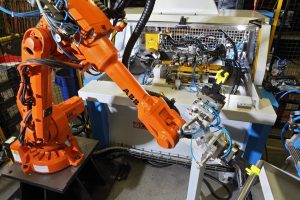 Robotic End Former at PDI Buffalo Facility
"Our employees can move around to different areas if they want, but a lot of people like to stay where they are.  Some people stay in the same area for years, while others move around to try out different areas…There's a place for everybody."
Manufacturing is a major industry and for many years, Baby Boomers built their careers and lives on it.  However, the manufacturing industry is greatly affected as that generation ages.  Lou Panzica, PDI's CEO, says:
Lou Panzica in Buffalo Facility

"Manufacturing has taken on a higher profile in the US in recent years.  With Baby Boomers who have made a career in manufacturing now entering retirement, there are many opportunities available in manufacturing and in fact, employers are having difficulty filling these roles." 
Yet there is plenty of hope for manufacturing, as interest in STEM educational programs increases.  These programs not only generate interest among the younger generations but among women as well, who were previously not largely represented in the field.  This bodes well for the future of manufacturing as a whole. "I see manufacturing thriving in the future," Panzica says.

While manufacturing truly is a major industry, it's also very misunderstood.  While many believe external forces are killing the manufacturing industry in our country, Panzica disagrees:
"A lot of people feel manufacturing is dead in the U.S. and that everything is all in other countries, and that's simply not true."
Manufacturing jobs are still here in our country, and in fact, being created every day.  For those looking to enter the manufacturing field, Panzica has some advice:
"Start early in STEM programs and take every opportunity to understand what jobs are available and what their requirements are."
This manufacturing day, remain curious and hopeful when observing the manufacturing industry.  This day is meant to not only celebrate current manufacturing workers but also to inspire students to enter the manufacturing industry.  All of us at PDI are proud to be a part of the industry and eager to see it grow and thrive in the future.