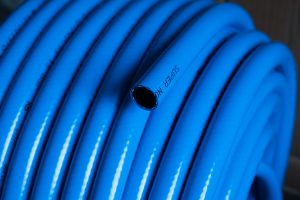 Pneumatic hose and tubing are used in countless applications, from industrial machinery to heavy duty truck and bus. Compressed air is a powerful force in actuation and fluid power, and when it comes time to determine which pneumatic hose or tubing to use for your application, the options can seem endless. 
Pneumatic hose or tubing need to be replaced in the event of a leak or any fitting damage. While pneumatic hose can last years, it will eventually need to be replaced, and it is important to look for signs of wear and tear.
For new projects specifically, it is important to first decide between hose and tubing. Tubing is made of flexible plastic. Hose is tubing reinforced with more layers and a protective covering. Generally speaking, pneumatic hose will be sturdier, and because of this, a little more expensive than pneumatic tubing.
Once you have decided whether you need hose or tubing, you need to determine the length. If the hose or tubing is too long, pressure losses will occur. Secondly, ensure that the hose or tubing that you choose will have the pressure rating you need to perform the job. The cubic feet per minute requirements of your application will determine the internal diameter of your hose or tubing. A lower CFM will require smaller hoses, as a higher CFM will require hoses with a larger ID.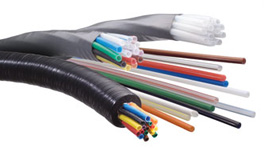 Pneumatic tubing is made of plastic, but application dictates the type of plastic construction that will be best. Plastic tubing can either be made of polyethylene, polyurethane, nylon, Teflon® or PVC. PVC tubing is quite flexible, while polyethylene is the more economical option. Polyurethane is strong and flexible, and Teflon® tends to perform well in robotic applications. A special type of pneumatic tubing is air brake tubing. Make sure that any air brake tubing you purchase is DOT approved to ensure safety. 

Pneumatic hose, as previously stated, is stronger as compared to pneumatic tubing, and comes in various constructions. Rubber hose has temperature grades of -40 to 212°F, diameters of ¼ -1 ½", and pressure ratings of up to 300 psi. 

The thought of PVC may often come with the connotation of rigidity, but PVC hose is flexible and kink resistant. Featuring both an internal PVC tubing and a PVC cover, PVC pneumatic hose has a wide temperature range (-10 to 150°F) and can handle pressures up to 250 psi.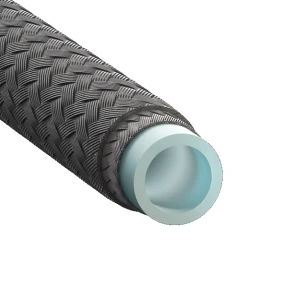 Stainless steel Teflon® hose offers maximum flexibility and performs great in food and beverage applications as well as steam, compressor discharge, automotive and air brake. A wide temperature range is also one of stainless steel Teflon®'s traits: It can withstand temperatures of -40 to 500°F.
There is a lot to unpack when it comes to pneumatic hose and tubing, but a little knowledge goes a long way in determining which hose is best for you and your application. You can start with an online research, but oftentimes this method leaves you with more questions than answers. Call the experts to ensure that you get the right hose or tubing for the job, one that will provide the strength and reliability you need for years to come: 800.888.1373.