PDI's

Diesel Dehydrator

Increases Performance

,

Saves on Maintenance and

Gets Water Out of

Anything That Runs on Diesel
One of Power Drives' patent pending engineered systems, the Diesel Dehydrator, has resulted in quite a success story for one of our customers, National Railway Equipment Company (NRE).
NRE builds and leases locomotives. They had a customer in Canada who was experiencing repeated fuel injector failure, to the point where they had to replace them every six months. The failure was due to the high water concentration in the diesel, which was wreaking havoc on the locomotive in the way of decreased performance and reliability.
Their customer was getting frustrated and was ready to terminate their lease.
"I was researching solutions and learned about the Diesel Dehydrator by PDI," said Director of International Maintenance Richard Elgin, "a system that filters water and particulates from locomotive fuel. I knew that this system would be the perfect solution to our customer's problem.
"I immediately called PDI and placed our first order. The customer who was ready to terminate their lease installed the Diesel Dehydrator on their locomotive, and not only continued their lease, but requested a second Diesel Dehydrator a year later."
The Diesel Dehydrator increased the fuel injector lifespan by over four times by filtering and removing 99.5% of water from the fuel. This fuel treatment reduces maintenance, increases efficiency and prevents corrosion of engine fuel system parts.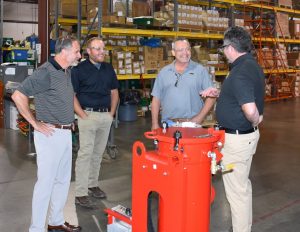 Elgin's recent visit to PDI's manufacturing facility.
"We've seen so much success with the Diesel Dehydrator from Power Drives that we have purchased additional units for other customers, and see this product as an essential component of our locomotives moving forward," said Elgin.
PDI's patent pending Diesel Dehydrator system was engineered in response to a pervasive problem within the locomotive industry: water and particulate contaminant in the fuel tank.
Water builds in a fuel tank through condensation, and once it's there, the locomotive experiences decreased overall performance and fuel injector damage. Fuel injectors cost thousands of dollars a piece, so water contamination can be damaging on the financial side as well. Particulate contamination can be just as destructive. Increased wear and tear results in decreased performance and can even lead to engine failure.
"I would recommend it for anything that runs on diesel," Elgin said. "It will get the water out of it."

View a live demonstration of the Diesel Dehydrator at Booth 3137 at Railway Interchange!