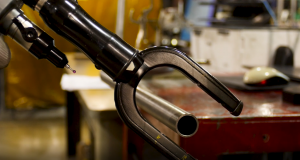 As a manufacturer of custom hose and tube assemblies, Power Drives, Inc. has been meeting and exceeding customer requirements and creating innovative solutions for decades. It was back in the 1980's that we began manufacturing for our first original equipment manufacturer, and in the early 90's when we expanded our production operations to a second facility in Erie, Pennsylvania.
We continue to create custom hose assemblies day in and day out, from our two manufacturing locations in Buffalo and Erie. The process of creating custom hose assemblies begins with assessing customer requirements. From there, our team of experienced engineers gets to work on developing the perfect design for the application and configuration of the new assembly.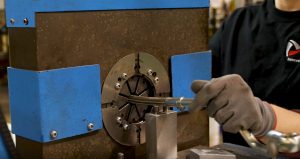 Properly manufacturing custom hose assemblies requires ownership and oversight of the manufacturing process from start to finish. Having complete control maximizes quality assurance and confidence in the product being delivered on time, every time. PDI is certified to ISO 9001:IATF and utilizes Advanced Product Quality Planning (APQP). The laboratory scope of our operation includes 3-D measurement capabilities. 
PDI engineers work with our customers to provide technical assistance, assess requirements, make product and design recommendations and deliver cost-effective solutions for each unique situation. We work with standard and custom tubing, hose, fittings and hardware in a variety of application-proven materials and configurations to provide you with the best products and service possible. Models for new assemblies are first designed within a solid modeling computer-aided design program. Then the design is sent to the production floor, complete with the specific details on material, bend radii and pressure requirements.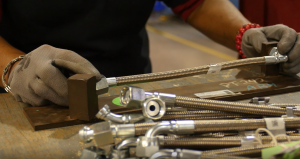 Once the custom assembly goes through its production — which includes cutting, CNC tube bending, end forming and crimping on the applicable fittings —  it receives final quality checks before it is packaged up and shipped out. 
Original equipment manufacturers do not trust just any company to create their hydraulic hose assemblies. Manufacturers are expected to meet rigorous requirements. Various inspections are also conducted prior to determining whether the manufacturer will create said products for a respective company. OEM's trust Power Drives because of our experience and reputation within the fluid power industry. Our diligent work and focus on continuous improvement has allowed us to supply custom hydraulic assemblies to some of the biggest names in the transportation, automotive and agricultural industries, as well as several multinational manufacturers.
Being an engineering-driven company, you can count on PDI for consistent quality, functionality and reliability of custom hose assemblies. Contact us today to get started on your next project!