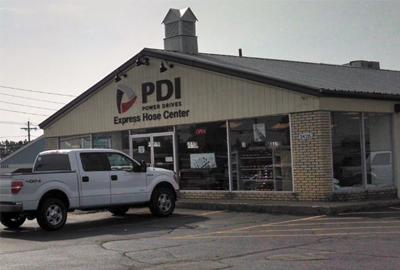 Power Drives Express Hose Center
2425 Brighton Henrietta Town Line Rd., NY 14623
Ph: 585.424.6688
Open M-F: 7:30 AM – 5PM

After Hours Emergency
585.424.6688
Power Drives, Inc. is the only authorized premier Eaton distributor in Rochester, NY and your one-stop shop for all of your hydraulic and pneumatic component needs.
Whether it's disabled plant machinery or preventative maintenance for most any fluid conveying assembly, we have what you need.
Power Drives Rochester stocks Aeroquip MatchMate hose and fittings, Vickers pumps, valves, cylinders, quick couplings, a complete line of metric fittings and adapters, and so much more.
We also offer a complete line of Aeroquip racing hose and fittings, Brakequip hydraulic brake and clutch hoses.
With our Brakequip equipment we make hydraulic brake lines that are DOT compliant and tested to 3,000 psi. In addition, all brake and clutch lines are available in braided stainless steel. Choose from over 32 color combinations to customize the look to suit you.