Hydraulic pumps and motors are some of the most important pieces in a hydraulic system. They serve equally important, yet opposite functions.
Pumps convert the mechanical energy of a turning shaft into hydraulic energy, and motors take that fluid under pressure and apply it to create rotary mechanical force. One of the common terms used in hydraulics is "torque," which refers to the rotary force applied to a shaft.
PDI has various hydraulic pumps and motors sure to meet any application requirement. Reliable, smooth operating pumps range in pressures from 1,000 to 8,000 psi and are designed for maximum reliability. They are available in a wide variety of industrial applications such as manufacturing and military. Here are some different types of pumps and motors:
Gear Pumps
Gear pumps can accommodate multiple functions and feature maximum pressure ranges of 3,500 psi and speeds of 3,600 rpm. Industrial and agricultural equipment are common applications for gear pumps as they pack a lot of power into a compact package.
Piston Pumps
Piston pumps are available in open and closed circuits and a wide range of design options to fit the specific needs of your engineering application. Low operating noise, long operating life and fire resistance are all reasons why piston pumps are the pumps of choice in MRO applications.
Vane Pumps
Eaton Vickers pumps are excellent for a wide range of industrial applications. Modular designs, fixed displacement, and flexible port and mounting options result in a versatile product ready to get the job done for any need you may have.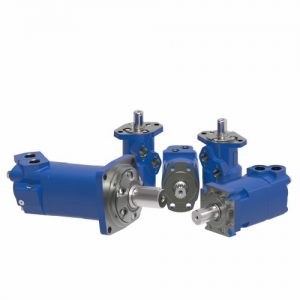 Motors
Power Drives carries Eaton Char-Lynn motors, which are simplified low-speed, high torque (LSHT) motors that are extremely efficient across a wide variety of markets and applications. With high pressure capacities and compact packaging, Char-Lynn motors are perfect for various construction vehicles and material handling equipment.
The next time you are in need of a pump or motor, give your friends at PDI a call, we can help you out!