Hydraulic tubing, or hydraulic lines, are used in much modern machinery. Here at PDI, we manufacture steel tubing for hydraulic and diesel engine applications, and for customers large and small. From a tube less than an inch in diameter, to one multiple inches wide, we have the machinery and expertise to create hydraulic tubing that our customers need.
Manufacturing hydraulic tubes is an extremely precise manufacturing capability. They require the most demanding fabrication and must meet strict tolerance requirements and high pressures.
We specialize in hydraulics and are continually investing in technology to meet the growing demand for hydraulic and diesel engine tube fabrication.
More Than Bending
We bend tubes, but we also do much more than that. We create entire fluid transference tubing, and hose-and-tubing assemblies, which is why we call ourselves experts in fluid transference solutions. From cutting to deburring to bending to welding to assembling, we do it all. Robotic welding, tube bending and end forming are all processes we utilize for increased accuracy and production volume.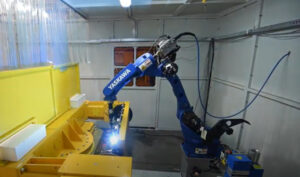 Thanks to these technologies, once we have a job set up, we can run many parts in no time.
Quality and Checks
Accuracy and quality are always important, but they are especially important when talking about high pressure, hydraulic applications. We have numerous quality checks, including a touchless, tube inspection system. A tube is inspected, and if any modifications need to be made, they are automatically sent back to the tube bender, so the part will be updated accordingly.
If you have hydraulic tubing needs and would like more information, please reach out. We'd be happy to answer any questions you may have.