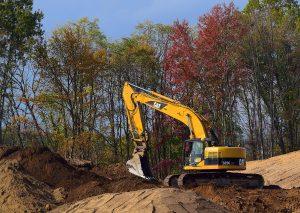 Efficiency is everything. It's time, effort, resources and money all rolled into one. It's important throughout each stage of your process and in every aspect of your business, especially when your business relies on hydraulics. Efficiency in a hydraulic system comes down to each component of the system, including hydraulic hoses.
There is a lot of variance in hydraulic hose, from pressure ranges to abrasion resistance to temperature ratings. Having the right kind of hydraulic hose for your application is the first step in improving efficiency, but knowing which is the best fit for your application isn't always simple. Let's take a look at the different types of hoses and the benefits of each.
Braided hydraulic hoses are often the hoses of choice in high performance applications like power steering and hydraulics. Braided hoses are constructed of either one or two wires. One-wire hoses have a slightly smaller operating temperature range as compared to 2-wire braided hoses, but diameter ranges are essentially the same, and are dependent upon grade. In terms of SAE standards, PDI's 1-wire hydraulic hoses meet SAE 100RI and 2-wire hydraulic hoses meet SAE 100R2. 
Spiral hydraulic hoses are extremely versatile and can be used in various applications like mining, forestry, off-highway and high performance. They come in 4- and 6-wire. Typical fluids such hoses would convey are oil and water-based fluids. With wide operating temperatures and pressures, spiral hydraulic hoses are sturdy hoses, making them solid and versatile.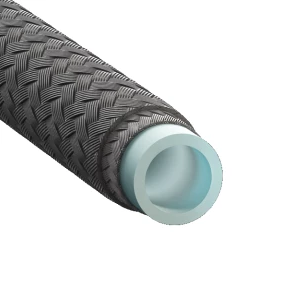 The main reason stainless steel Teflon® hose would be the hose of choice over other hydraulic hoses is because it is twice as flexible as standard 100R14B hose. This makes it applicable for chemical conveyance, food and beverage applications, steam, compressor discharge, automotive and air brake applications. PDI's stainless steel Teflon® hose meets SAE 100R14B requirements.
When weight is a concern, thermoplastic hoses come through. Thermoplastic hoses are great for applications such as forklifts, construction and automotive. Meeting SAE 100R7, 100R8, 100R18 and J517 standards, PDI's thermoplastic hydraulic hoses are reliable and versatile, come in long lengths and can convey highly pressurized fluid.

On the return side of hydraulics, suction lines ensure that fluids from -40 to 302°F are transferred safely and properly. PDI's return lines meet SAE 100R4 standards.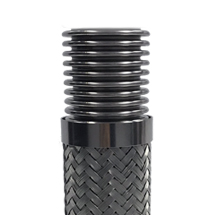 For extremely high temperature applications, flexible metal hose, or corrugated metal hydraulic hose, would likely be the hose of choice. Corrugated flexible metal hydraulic hose is good for conveying steam as well as hot liquids, up to 2,000°F. If you need to connect misaligned piping, a flexible metal hose can act as a connector. Typical sizes go up to 2".
In racing applications, performance hydraulic hoses convey hydraulic oil as well as fuel, coolant, air and N2O. Because these hoses are specifically designed for racing, they are lightweight and can handle pressures of up to 2,500 psi.
Not all hydraulic hoses are created equal; there are a lot of different kinds out there. Make sure you know what you are looking for, or consult an expert to ensure you have the right hydraulic hose for the job, in order to maximize your operation's efficiency.