When determining if a supplier is right for you, you may or may not think about their manufacturing equipment – but you should! Aside from people, equipment is the backbone of production. Many of the products that are on the market today would be near impossible to produce without certain specialized equipment. Beyond that, the quality would be lower without state-of-the-art measurement devices.
Manufacturing equipment will vary depending on the type of supplier. Below is some of the manufacturing equipment we have at Power Drives, Inc. for hydraulic tube and assemblies, diesel engine products and locomotive products.
Tube Cutter
Tube and pipe cutters allow us to cut various materials of tube and pipe, including copper, aluminum, brass and steel. Any tube-related production begins with cutting.
CNC Bending Machine

Bending tube with extreme precision is possible due to our CNC bending equipment. This enables us to bend a wide range of materials to meet each specific customer application and ensure specification consistency throughout production. We create custom bent tube to a wide variety of exacting tolerances and wall thicknesses. Our tube bending capability is from 3/16″ to 3″.
End Formers
Whatever end form you need, we can handle it with pneumatic and hydraulic end forming machines. These machines are capable of producing complex end forms for many custom applications. End form capabilities include ram forming, rotary forming, roll forming, flaring, internal expansion and swaging. For high volume end forming, in-house robotic end forming is also utilized.
Laser Cutting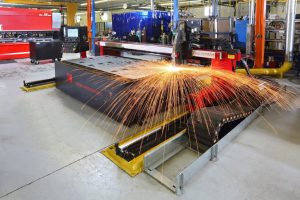 Sheet metal isn't a main staple of our core business, but in some cases we have to cut for custom orders. Having this machinery on-site for projects that require it cuts down on production time and allows us to be a one-stop solution-creator.
Press Brake
Similar to laser cutting, the press brake is used for sheet metal projects. Being able to bend large pieces of sheet metal is an advantage to many of our customers.
Crimpers
Since a large portion of our business is hose assembly, where would we be without crimpers? Our specialized assemblers ensure that the crimp is correct every time.
Paint Booth
Ensuring consistency in color and branding is simple with a paint booth on premises. This is yet another example of how we make doing business with us easy; there is no need to find another vendor to do the painting.
Tube Measurement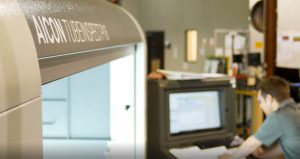 There are various quality checks for tube production in our facilities, including optical tube measurement machines. These non-contact machines visually assess a tube, compare it to requirements, and feed any necessary changes back into a bender to ensure that every tube meets exact customer requirements.
3D Printer
3D printers are perfect for quick-turn prototypes.
If you think any of our equipment can assist in completing a job for your needs, reach out today. We'd be happy to discuss.