Pneumatic actuators are the mechanical devices that move things back and forth along a linear or rotary path. Pneumatic actuators are used in industrial applications where physical movement is required, either down a belt in a processing or sorting situation, in an oil refinery, water treatment or mining.
There are as many actuators as there are ways to move through actuation. These include Rodless, NFPA Thrusters, Repairable and Non-Repairable, ISO, Rotary, Compact, Grippers and IVAC actuators. Here at PDI, we are a distributor for the top pneumatic actuators in the industry, including Bimba and Norgren.
Rodless
Rodless pneumatic actuators can either be mechanically coupled or magnetically coupled. There is no internal rod to the actuator, but rather an external guide. Rodless actuators can be used for load-bearing applications. Some rodless actuators are extremely flat and compact.
NFPA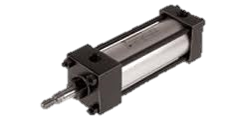 An NFPA cylinder is also commonly referred to as a tie rod air cylinder. NFPA cylinders are reusable and available in bore sizes of up to 12 inches and stroke lengths of 120″. These cylinders are available in aluminum for light duty applications, and steel for heavy duty applications.
Thrusters
Thruster actuators are common for pick-and-place applications. Thrusters are cost-effective and durable, and can handle small and large objects. Available in standard and heavy duty options, these actuators can be as long as 60″.
Repairable and Non-Repairable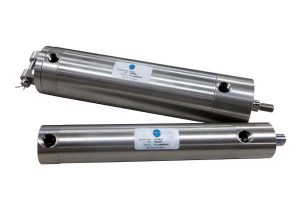 Repairable actuators offer corrosion resistance and are easy to clean and mount. Bore sizes range from 1 1/2 – 8″ and maximum operating pressures go up to 200 psi. Non-repairable actuators have bore sizes of up to 3″ and maximum operating pressures of up to 200 psi. Repairable actuators offer a sustainable solution while non-repairable actuators are low cost and simple to swap out.
ISO
At PDI, our ISO certified pneumatic cylinders conform to ISO 6432 and ISO 15552. Whether standard, non-rotating rod, direct mount or standard, our actuators meet the toughest standards to ensure that your operation runs smoothly. ISO 6432 cylinder bore sizes range from 8mm to 25 mm, and ISO 15552 cylinder bore sizes range from 32 mm to 125 mm.
Rotary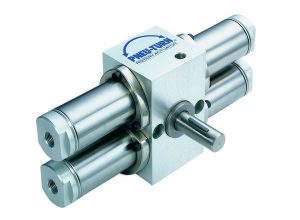 A rotary actuator is different from other actuators in that the motion for such an actuator is circular, instead of linear. Rotary actuators are available as either rack or pinion, and either double or single acting. Common applications for rotary actuators are industrial applications such as transferring parts, controlling valves and conveying
Compact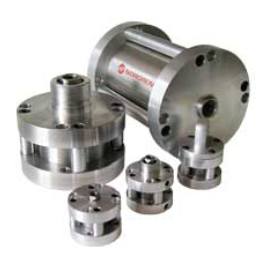 When space is at a premium, compact cylinders are extremely useful. Diameters range from 9/16 to 3″ and stroke lengths are from 1/4 to 2″. PDI's compact cylinders are pressure rated up to 200 psi and have a temperature range of -20 to 400°F.
Grippers
The times that grippers would be used are primarily in pick and place situations. Gripper actuators feature jaws that close around objects to move them to new positions. Grippers come in different styles such as angular, shovel and flange.
IVAC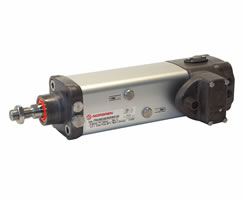 IVAC stands for integrated valve actuator control. IVAC actuators are lightweight and feature magnetically operated switches for complete control. These actuators result in reduced energy use, lower operating costs and reduced installation costs. PDI is your source for IVAC actuators in any situation where you need both an actuator and valve.
When you need a custom actuator, contact your fluid transference and treatment experts at PDI.