Couplers are a type of fitting. So what do they do? Couplers help connect the various components within a fluid transference system. Here, we're going to focus on pneumatic couplers and how they connect components within a pneumatic system. As with most things fluid transference, there are a lot of different specifications for pneumatic couplers.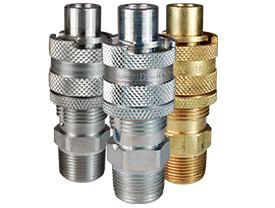 How They Work
A pneumatic coupler can go by many names, including pneumatic quick disconnect couplings, pneumatic quick disconnect, quick coupler, air coupler and compressor coupling. In a pneumatic system, the coupler connects pneumatic hose or tubing to a pneumatic tools. The coupling is designed to connect and disconnect tools to the line quickly without loss of fluid or pressure.
What We Carry
Here at PDI we carry pneumatic couplings for a wide variety of applications in a wide variety of materials, including: plastic, brass steel and PVC. A coupling consists of two parts: one male and one female component. The female part is the piece on the hose or tubing. The male counterpart will be on the tool. Pneumatic couplings are designed so the female part  automatically closes the line once a disconnect occurs. This way, no air or pressure is lost.
What's the Best Coupling for the Job?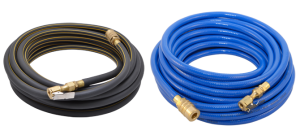 This answer to this question varies widely depending on specifications, application and environment. Please contact us today so we can guide you through which pneumatic coupling(s) will be best for your business.