Power Drives is honored to have received the award of Operational Excellence from Buffalo Business First.
This is all possible thanks to our hard-working and dedicated team.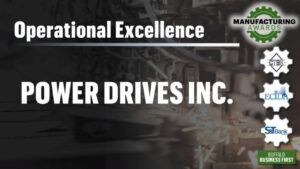 Congratulations to all of the winners of this year's Manufacturing Awards. See you next year!
---
The article:
Power Drives developed a niche in the locomotive industry with its powerhouse and diesel dehydrator. These products reduce emissions, save noise and fuel costs, and reduce wear and tear on the locomotive.
When engineered solutions become part of an original equipment manufacturer's design, it signifies that you are greater than a supplier – you are a partner. That's exactly what happened with a locomotive manufacturer.
The first 20 locomotives produced were failing due to fuel cleanliness issues. Power Drives engineers designed a highly effective system that filtered the locomotive's fuel before it reached the fuel injectors. It was exactly what the customer needed. The system became part of the OEM design.
And for just these reasons, PDI has an engineering department dedicated to research and development.
PDI has consolidated all manufacturing in Buffalo. New machinery is now in the Buffalo building, including a CNC laser cutter and paint booth.
Congratulations to Power Drives Inc. and Lou Panzica.
---
Power Drives Inc.
801 Exchange St., Buffalo • powerdrives.com
Lou Panzica, president and CEO
Key executives:
Peter Daigler, vice president of business development
Suzanne Elliott, vice president of human resources
Joster Macedo, CFO
Mike Moffett, vice president of operations
Manufactured product: Power Drives. is a designer, manufacturer and distributor of products for industrial fluid transference and treatment, including hydraulics and pneumatics.
Founded: 1946
Employees, local: 114
Employees, worldwide (includes local): 182
Key event in company history: Forming a joint venture with a Chinese partner in Changshu, China in 2008. PDI bought out that partner in 2011 resulting in the creation of a wholly owned subsidiary sister plant supplying product to the Chinese marketplace.
Plans for 2021 and beyond: To keep growing business organically with new customers. PDI's dedication to innovation has made us an engineering-driven and focused company. We focus on new product development in addition to manufacturing, toward the end of being a customer partner, not just a supplier.
Interesting fact: PDI is celebrating its 75th anniversary in 2021. The business started as a small power-transmission distributor on South Park Avenue with three employees. Seventy-five years later we employ hundreds, have two manufacturing facilities in two countries and have five retail stores across New York and Pennsylvania.