Quick disconnect couplings, also known as quick couplers or quick disconnect fittings, are often used in situations where a hose has to be connected and disconnected quickly and efficiently. Because of environmental and cleanup concerns, hydraulic hose leaks are to be avoided at all costs. Quick disconnects minimize leakage, pressure drops and provide the ideal solution to difficult assemblies.


Both pneumatic and hydraulic applications can benefit from quick disconnect couplings. (Sometimes you will see pneumatic quick disconnects referred to as air couplers.) Depending upon the material and configuration, quick disconnects can be used in the transference of air, hydraulic fluid, oil, water, chemicals or gas. 
The markets where hoses need to be disconnected quickly and efficiently are varied, and these couplings can be used in almost any situation where fluid is being transferred by hose. Some of the main markets are construction, agriculture, alternative energy, oil and gas, marine, forestry, mining and industrial and mobile equipment. Mobile equipment is an extremely popular use because attachments are often removed and switched out.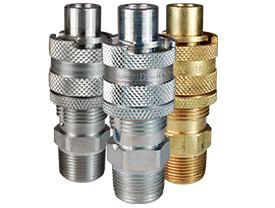 Power tools can either be pneumatically or hydraulically powered, and since they need to be changed 
out frequently, quick disconnects are the easiest, cleanest, safest and most cost-effective way to achieve the desired result.
Quick disconnects are made from various different materials based upon the requirements of the job. In air applications, they can be plastic, brass, steel and PVC. The connection options are push-to-connect and thread-to-connect. Hydraulic quick disconnects are available in steel, stainless steel and brass, and can either be push-to-connect or thread-to-connect. 
It is important to take into account the pressure, temperature and size requirements for your quick disconnects. Get top-of-the line equipment to ensure that you can quickly and efficiently remove attachments.