SolidWorks World 2018
"People empowered by knowledge started creating amazing things, started exploring the world. So we believe what will empower the Industrial Renaissance is more access to technology."
This was a statement made by SolidWorks CEO Gian Paolo Bassi in his opening remarks at this year's SolidWorks World in Los Angeles, CA. The purpose of this annual event is to highlight and discuss advancements in design and manufacturing. They cover topics such as 3D CAD and simulation, electrical design and schematics, communications, collaboration, and data management.

PDI's Design Team Leader, Rick Braine, represented PDI at SolidWorks World 2018. Throughout the course of this three-day event, Rick attended presentations and demonstrations by distinguished keynote speakers, took part in the "Model Mania" design challenge, and interacted with over 5,000 members of the SolidWorks community through a multitude of breakout sessions. There's no wonder why this event is hailed as "the 3D design event of the year." If you were unable to attend SolidWorks World 2018, have no fear! Keep reading for highlights of the innovative developments featured by the renowned speakers.

This three-day event highlighted major advancements and innovative technology made by members of the SolidWorks community.
Brent Bushnell from Two Bit Circus discussed designing immersive experiences, and explained that "there's no experience more immersive than real life."

MIT Professor Neri Oxman introduced us to "the age of the organism." This new biodigital age of bits, atoms, and genes "moves from assembly to biology where products are grown."

Joe Hiura & Robert Andrew Johnson, art directors and set designers, discussed how they use SolidWorks to create movie sets for major films such as Oblivion, Passengers, Tron Legacy, and Batman Versus Superman.

Kyoungchul Kong from SG robotics explained how he uses SolidWorks to build robotic powered exoskeletons to help those with disabilities or limited mobility learn to walk again.

Michael Jagemann, head of XB-1 Production, Boom Supersonic, showed us how he and his team designed an entire aircraft with SolidWorks.
These advancements show just how valuable SolidWorks is in the design and manufacturing community.

PDI was also recognized on stage for our team's innovative use of SolidWorks' certification program. Rick Braine and his team created a method in which they use the SolidWorks certification for internal training. This method trains new employees in the program and helps veteran users learn new skills. We believe that this program will ensure that we have a consistent team of experts who are up-to-date on all SolidWorks technology.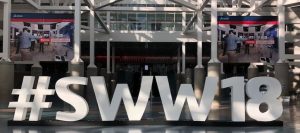 Gian Paolo Bassi, CEO of SolidWorks, made several exciting announcements about the future of SolidWorks and the "Industrial Renaissance." Bassi announced the new 3DEXPERIENCE Social Collaboration Services. This facilitates collaboration at the beginning of a project, allowing for a more effective use of time and money. He also presented the new 3DEXPERIENCE PLM Services, which will provide design, engineering and business process services stored in the cloud. His third announcement was the new art-to-part Product Designer, which allows for more complete and time-effective design. His fourth announcement was SolidWorks xDesign, which allows users to utilize SolidWorks 3D design software in a browser, even on mobile devices. Finally, he debuted 3DEXPERIENCE Marketplace, which fosters collaboration and transactions with expert vendors and members of the industry to improve products and expedite manufacturing.

We are so fortunate to be a part of the SolidWorks community and have access to this state of the art technology. Their commitment to knowledge expansion and innovation is not only commendable, but also a necessity for the time we're living in. We are excited to be a part of this Industrial Renaissance.