This story is the perfect example of how expertise and relationships result in collaborative projects and even stronger customer connections.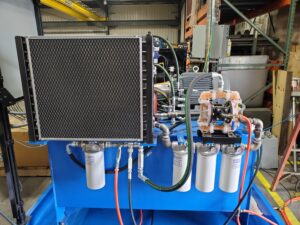 A long-term customer of the Tonawanda, N.Y. PDI Express Hose Center had come in with a new project to tackle: A hydraulic snow plow cylinder testing stand. The customer manufactures rod and telescopic cylinders, engineering them to customer designs. The stand was to be designed to test the functionality of the snow plow cylinders.
Snow plows handle thousands of pounds of snow, so they had to test the cylinders for motion under such pressure. They also had to test for the "break away": Snow plow cylinders use two single-acting cylinders so once a certain pressure threshold is reached, the cylinder will break away, activating the locking mechanism to retreat to the rest position. This is a very important safety check for snow plows because poor visibility can lead to hitting curbs or other objects under the snow. It had to be designed to test multiple cylinders, multiple strokes, and extend and retreat up to 18" under 3,000 psi.
Working on a project of this magnitude, it was important that the customer come to a supplier they had built a relationship with and trusted. They had worked with PDI on various projects in the past, benefiting from the company's expertise and product recommendations.
While the customer was in the process of designing the machine, they came into the store with a plan on a piece of paper, with the specifications they were looking for. Sitting down and building hoses piece by piece, the PDI team created hydraulic and pneumatic fluid transference solutions for the entire system. Fittings, check valves, hoses and tubing were all created and chosen collaboratively in the store. Filtration solutions were also addressed and incorporated into the stand.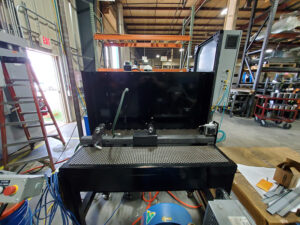 Since completing and implementing the stand, the customer has seen their productivity in testing increase significantly. For locking cylinders, the ability to test has increased from 17 per hour to 32 per hour. For the non-locking cylinders, testing has increased from 50 to 110 per hour. Talk about results!
PDI met this customer's specifications and exceeded expectations, which is what happens when customers' business truly becomes the supplier's business.