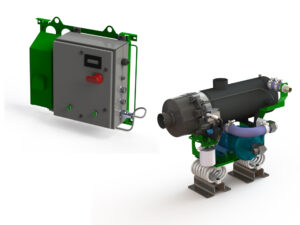 The PowerHouse™ idle reduction system has been around for a while. The system was first engineered in 2007 in response to customer need. Over the last 14 years, we have been updating and adapting the PowerHouse™ to become even more efficient and make our customers' lives increasingly better.
Our latest PowerHouse™ model is the Hybrid. The Hybrid is powered by either an external AC power source, or directly from the locomotive battery bank for up to seven days. When plugged into an external power source, the hybrid trickle charges the locomotive batteries. Having greater versatility and reliability provides peace of mind for operators, so they don't need to worry so much about shore power, and can rest easy knowing the hybrid will be doing its job of keeping the engine warm.
This model debuted just recently and is already very popular with our customers, both those who already have a PowerHouse™ system as well as those who do not. If you'd like to learn more about how this little system packs a huge punch, contact us today. We'd love to tell you all about it in great detail.
It's definitely been one of the most exciting things to happen in the last year.