PDI is deeply proud to have our headquarters in Buffalo, NY. Buffalo is a constantly-changing city. It was once one of the major industry and tourism capitals of the world. The city's grain elevators, steel mills, easy access to Ontario and the Erie Canal made Buffalo into an economically booming city from the early-1800s to the mid-1900s.



However, the Great Depression seriously affected Buffalo's economic well being, and the city never fully recovered. Factory workers left the Rust Belt for opportunities elsewhere and residents took part in the massive suburban migration. After many years of struggle and strife, Buffalo has recently begun a process of rapid growth, boasting a multitude of employment opportunities and rich culture.

The metro population of Buffalo is now about 1,134,900 residents. This makes Buffalo the second most populated city in the state of New York after New York City. Buffalo is home to several major companies such as Rich Products, General Mills, Delaware North Companies and New Era Cap Company. However, perhaps one of the most significant developments in recent years is the Buffalo Billion program. Thanks to this program, the city has had many significant developments in the past few years.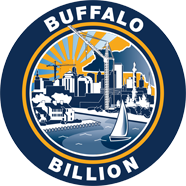 "Governor Andrew M. Cuomo has committed a historic $1 billion investment in the Buffalo area economy to create thousands of jobs and spur billions in new investment and economic activity over the next several years. This $1 billion commitment to economic excellence is setting a new growth trajectory for jobs and the regional economy."
The program has led to "new construction, increased economic development, and hundreds of new jobs to the area." A few examples of this advancement are the openings of the John R. Oishei Children's Hospital, the Innovation Hub at RiverBend (home to the Tesla Gigafactory), the Hotel Niagara, the startup competition 43North, and Buffalo Manufacturing Works, an advanced manufacturing center with the goal of strengthening the city's manufacturing sector.
"Buffalo Manufacturing Works is making Western New York manufacturers more competitive and positioning the region as a leader in manufacturing technology and innovation, which is helping spur new economic opportunities and job creation now and in the future…The center allows companies an affordable way to tap into resources to test and develop new technologies, and improve existing products and processes."
The fact that the Buffalo Billion program exists shows how far the city has come in recent years. It is also indicative of the bright future that can be seen for Buffalo's economic well-being, and all of us at PDI are proud to be a Buffalo-based company, contributing to that future.